An exciting WCAC Basketball season wrapped up on Monday night as the St.Johns Cadets and Paul VI Panthers battled in the Girls and Boys Basketball Championships.
On the Girl's side, St. Johns took on the Paul VI Panthers. From the opening tip, the Cadets were focused. Jumping to a 21-17 lead at halftime took a team effort. At the end of the second quarter, four players had four points Kyndal Walker, Tatum Greene, Delany Thomas, and Carolae Barton. But when the second half began, St. Johns had their eyes on the prize as they outscored Paul VI 15-7 in the third quarter and cruised to a 48 to 35 championship victory.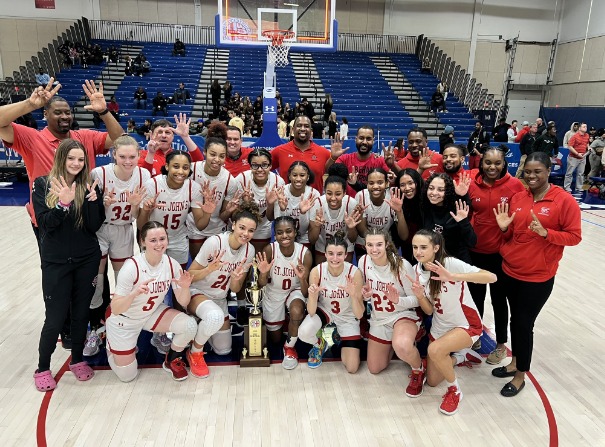 On the Boy's side, St. Johns also took on Paul VI in what was not only the WCAC, but a Nationally Ranked Matchup featuring multiple top players in the Nation. The two teams battled the entire night, trading buckets and making key plays for their team. For St.Johns, Daquan Davis, the four-star recruit, lead the way for the Panthers scoring ten points in the first half. But the leadership of Paul VI kept them in the game as Deshawn Harris-Smith, the future Maryland Terappin, had 6 points, two assists, and three rebounds in the first half while his team supported him as Patrick Ngongba, Ben Hammond, and Darren Harris scoring seven points.
As the second half began, the stars took over as Davis and Harris-Smith began to battle. As Paul VI trailed with just a few seconds left Harris-Smith tied the game for the Panthers. But after the Cadets got the ball, Davis found room as he navigated to the basket for the game-winning layup with just 3.8 seconds remaining. After a failed game winning attempt from Paul VI, St. Johns was crowned Champions of WCAC Basketball.